MyCalPAYS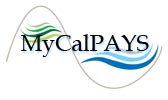 Note: The SAP contract has been terminated and the project suspended as of February 8, 2012.
---
Welcome to the Controller's Office's MyCalPAYS Main Page. MyCalPAYS is the new human resources and payroll system for the State of California. Over a series of months, all State civil services employees will be migrated to MyCalPAYS. You will find useful links related to MyCalPAYS below.

If your department or agency has not made the transition to MyCalPAYS, please contact your MyCalPAYS Department Support Team (DST) Coordinator for more information.
MyCalPAYS News/Updates
MyCalPAYS Training
MyCalPAYS User Access
MyCalPAYS Reference
Note: The information on this page will continue to be updated as PPSD adds more resources and guidance on MyCalPAYS. Please check back frequently as we continue to grow.

If you have any comments or questions on the content of these pages, please contact deployment@sco.ca.gov.