Reuniting Owners with their Unclaimed Property
Controller John Chiang has greatly improved the process of reuniting owners with their unclaimed property. Fiscal Year 2012-13 was SCO's third best year ever when it came to delivering properties, securities and cash to rightful owners. See the charts below for more details.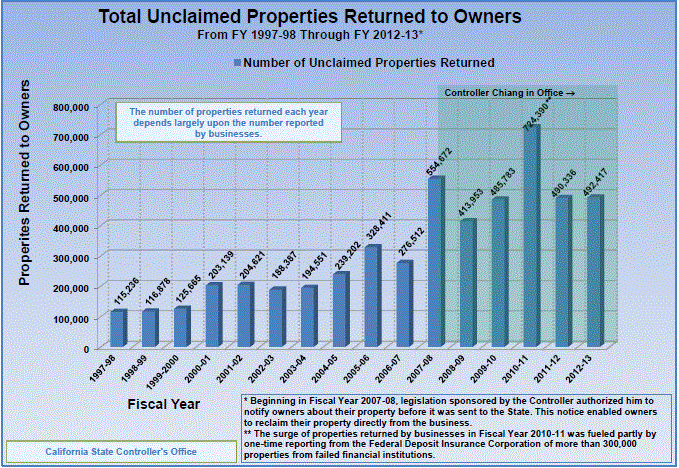 See the chart above as a PDF.
More Charts:
Controller's Actions Help Consumers
Shortly after assuming office in January 2007, Controller Chiang successfully sponsored legislation to lift a law that prohibited him from notifying 80% of property owners that their cash, stocks, deposits and other valuables had been sent to the State for safekeeping and were available to be claimed. The new law also allows the Controller to notify owners when their property is about to be sent to the State, giving owners the opportunity to reestablish contact with the business, or have their property sent directly to them. In the first year under the reform law, the Controller's office sent 2.5 million notices to property owners – more than double the 1.2 million sent out in the previous decade. Without the law, only 509,000 notices would have been mailed to owners, instead of the 8.8 million notices mailed through the end of August 2013.
Since January 2007, Controller Chiang reunited owners with $3.1 billion in cash that had been lost or forgotten, more than any previous Controller. Chiang also returned more than 236 million shares of securities to owners, which is more than 69 times the amount returned to owners during the previous seven years.
In 2008, the Controller initiated audits on 21 life insurance companies throughout the nation, putting an end to the industry-wide practices of failing to pay death benefits to policy holders and beneficiaries. He has entered into major-multi-state settlement with 19 life insurance companies that agreed to restore $266.7 million in unpaid benefits to Californians.
The Controller successfully sponsored legislation in 2013 to make more unclaimed property available to the rightful owners. The bill requires businesses to report any property worth $25 or more with, if available, the name and Social Security number of the owner. Prior to this reform, businesses were allowed to group property valued at under $50 together in one lump sum, with no information on the individual owners.
Controller Chiang also established a Property Owner Advocate's Office to assist individuals, businesses and local governments that have been unable to resolve their property claims in a timely manner. The Advocate works with the claimant to use all administrative remedies available to resolve the claim. The Advocate also works with the Unclaimed Property Division to implement procedures and policies to continuously improve customer service. For more information, visit the Property Owner Advocate's Office web pages.

To give owners of old photographs, family heirlooms or other items that may have sentimental value additional time to claim their property, the Controller successfully sponsored legislation to lengthen the amount of time he must retain property from only18 months to at least seven years.
To ensure that property is returned to the rightful owners, Controller Chiang also created a Fraudulent Claims Detection and Prevention Porgram that identified and prevented payment of more than $10 million in fraudulent claims in its first year.
The Controller also expanded the searchable Unclaimed Property database available on his website. The database now provides information about property that has been reported as about to be sent to the State, and provides information so that property owners can contact the business holding the property and reestablish their accounts or have the property directly returned to them. In addition to Spanish and English, individuals, businesses, governmental and non-profit agencies now can search for their property in Chinese, Tagalog, Korean, Vietnamese and Armenian.