December 2013 Cash Report Summary Analysis
Published December 10, 2013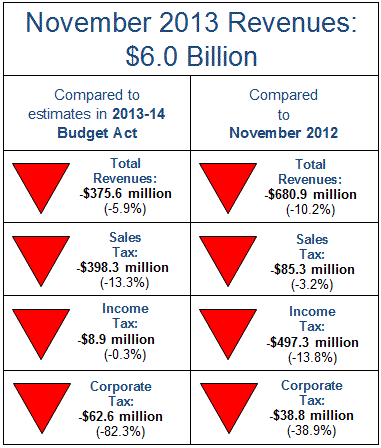 Bottom Line: What the Numbers Mean
November's tax receipts could look somewhat disappointing at face value, but delays in collections and recording appear to have accounted for much of the shortfall. Relative to projections contained in the 2013-14 Budget Act, total November revenues fell $376 million, or 5.9%, shy of estimates. Those figures do not include approximately $440 million in late November sales tax deposits which, because of the late Thanksgiving holiday, were recorded to the State's books in December. Read more and see detailed receipts and disbursements.
More on California Fiscal Policy: A Quick Glance at Bond Debt -- What's Already on the Markets?
When the State Treasurer's Office issued its annual debt report in October, it identified all authorized debt with outstanding balances. For all General Fund-supported General Obligation (GO) debt, the report listed debt totaling $74.5 billion (as of June 30, 2013). This debt had been authorized by state voters in statewide elections going back to November 1974. Read more.
Guest Column: Containing the Costs of California's Low-Carbon Fuel Standard
California is a clear leader in enacting greenhouse gas policies in the United States and around the world. But extreme compliance costs in programs such as the state's Low Carbon Fuel Standard may compromise greenhouse gas policies currently in place, as well as discourage the adoption of similar programs in other jurisdictions. As a result, instituting a hard cap on LCFS credit prices using a transparent containment mechanism is imperative. Read more of C.-Y. Cynthia Lin's column.
California Economic Snapshot

See recent statistics regarding California new car registrations, the median home price, single-family home sales and employment. Read more.