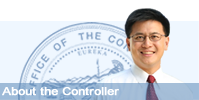 Quick Links
Contact Us
Sacramento
P.O. Box 942850
Sacramento, CA 94250-5872
(916) 445-2636 Office
(916) 322-4404 FAX
Los Angeles
777 South Figueroa Street,
Suite 4800
Los Angeles, CA 90017
(213) 833-6010 Office
(213) 833-6011 FAX
---
Latest News From the Controller's Office
Controller: CalPERS Remains Vulnerable to Spiking
Controller John Chiang found that the California Public Employees' Retirement System's failure to use automated controls and more proactively review payroll data exposes the system to the manipulation of pay for the purpose of "spiking" retirement benefits. Read the news release and report.
August Revenues Fall Short Of Estimates

Controller John Chiang reports California's August revenues totaled $6.7 billion, falling short of Budget Act estimates by $370.1 million. Most of this shortfall reflected a one-time transfer of $343.3 million in sales tax revenues from the State's General Fund to local governments. Read the news release, the summary analysis and the financial statement.
New Open Data Site Spotlights Local Government Finances
Controller John Chiang has unveiled a new open data website listing financial data for cities and counties as part of his ongoing efforts to promote transparency in government. The site, ByTheNumbers.sco.ca.gov, makes it easier for taxpayers to track revenues, expenditures, liabilities, assets, fund balances and even basic statistics about each city and county. Read the news release.
Additional Information on California Fiscal Issues