On The Go? Check Out The Controller's Mobile Website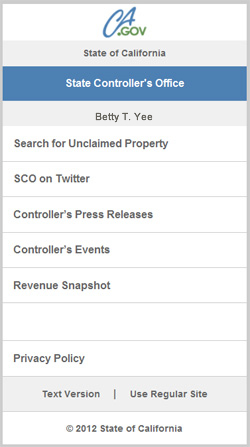 Controller Betty T. Yee offers a mobile version of her website to provide a quick link to several public services offered by her office.
To access the site, go to www.sco.ca.gov on an iPhone, Android or most other smartphones.
The site allows you to:
Search the Controller's unclaimed property database
Read the latest news releases
View the Controller's Twitter feed
See a calendar of the Controller's free financial seminars
See cash snapshots for the last three months
The mobile site does not offer all functions for Windows 7 phones, but the Controller's Office is working to add that feature soon.
Smartphone users who prefer viewing the full website may return to it by tapping on the "Use Regular Site" link on the mobile website.
Users of iPads and other tablets will continue to see the standard website by default.